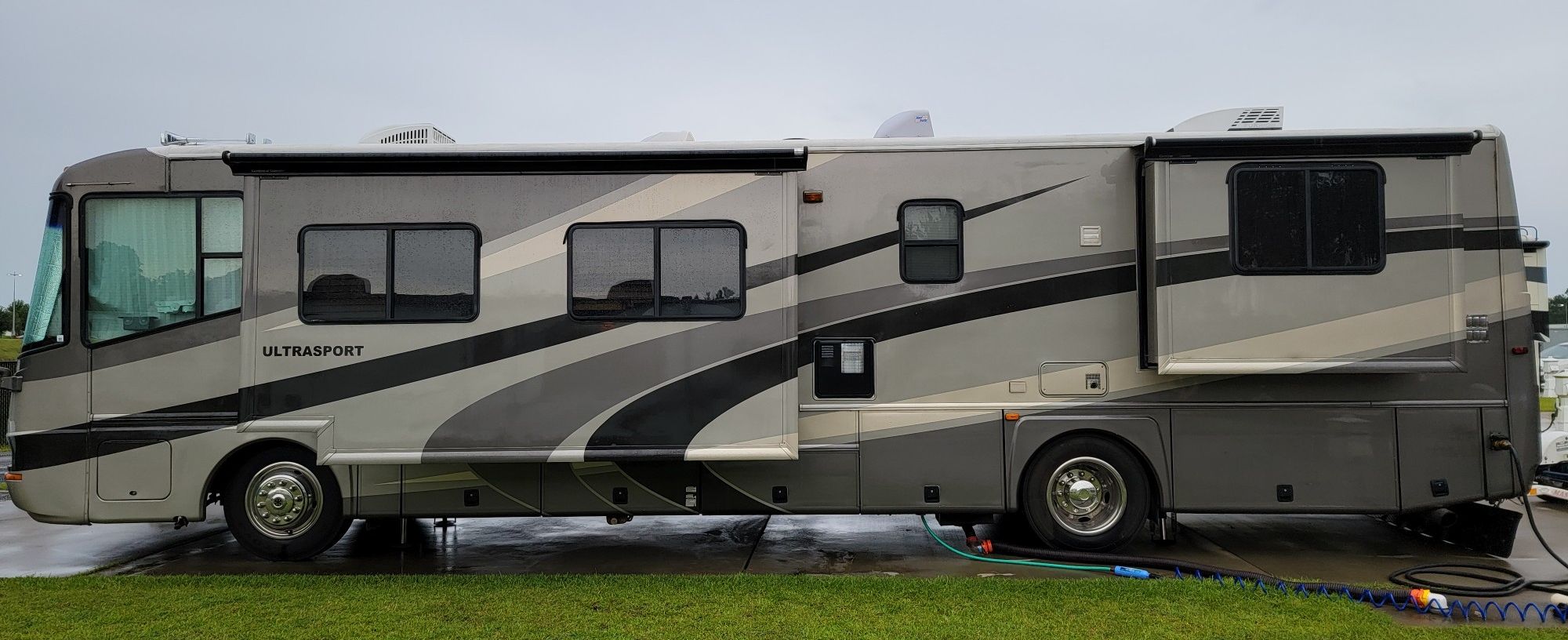 The Coach
See all the details here in Bobby's video
A Fundraiser Built On Faith
Since 2014, our headquarters in forty-two states, while we do prison services, and addiction ministries, has been this motorcoach. Truly a home away from home! It is a 2003 model. We have upgraded, remodeled, and maintained it as God has provided, every step of the way, but now, we need your help.
THE CHALLENGE
Spots of the finish are peeling, oxidizing, and cracking. Even though Bobby has kept regular maintenance and cleaning, the wear on the exterior has slowly exposed the fiberglass, and as this continues it will cause troublesome leaks and other damage. The more the damage, the more the loss of valuable ministry time, off the road, sitting in shops for repair. Our prayers are that God will prevent this from happening by making a way for the coach to get a full paint/repair job, so that we can continue on the road, serving HIM in the incarcerated churches across the U.S.
HOW YOU CAN HELP
We have done our research. We need $10,000 to get full paint/repair. This seemed like a mountain at first, but this quote given to us by an RV professional, is below competitive pricing for great, quality work. We put it into perspective like this ... that's only 100 people at $100 each! Suddenly this goal is completely achievable! We ask that you pray it over and should God lay it upon your heart to contribute any amount to this most important need for the ministry, we would be so very thankful.
THE DEADLINE
We have time in the schedule and time available with the professional on our route in August. We have set a deadline for the goal as August 12, 2021. Just over 2 weeks away!
WAYS TO DONATE
Online donation here at christsongministry.org by clicking the "DONATE" button at the top of the page.
Mail a check to: ChristSong Ministry, PO Box 52 Mountain City TN 37683 (please write "paint" in the memo)
We are so very grateful that you have taken an interest in ChristSong and thank you for reading about our needs. God's mission for the hearts of these men and women, that so desperately need Jesus is neverending, and we could not do it alone.
In His Service
Nancy and Bobby McGee
OUR DONATION PHILOSOPY
ChristSong Ministry is a faith based 501(C)(3), non-profit organization. In our efforts to remain transparent in our work for the Lord, we would like to make available to you, the financial integrity we conform to for this ministry.
First and foremost we want you to know that funds given to ChristSong Ministry are not used for our personal needs (Bobby and Nan McGee), nor for the personal needs of our staff/volunteers. Secondly, we only reach out in appeal for support when there are special circumstances beyond the normal financial needs of the ministry. Otherwise, we rely on regular donations as God leads each month to provide them. Jesus is faithful month after month and shows up in many ways to keep this ministry afloat.
We are self-funded by contributions through one time and monthly offerings from personal donations, faith organizations, and the sell of ChristSong Ministy merchandise. We accept donations based on the philosophy that you feel "led by God" to donate, after praying for HIS guidance about this ministry, as the Holy Bible states in 2 Corinthians 9:7.
We are grateful that you have allowed God to use you through donation, and by trusting and investing in God's mission for the hearts of these incarcerated men and women. We could not do this ministry alone. Only by special contributors like you. We have faith that He will continue to light that path.

More than $10200.13 donated! Thank you!
All donations above the goal will go toward the upcoming media series.